Music:
'Take Me Home'
Sophie Ellis Bextor
Roucan Loch 2006
Roucan Loch Crematorium is set in 10 acres of undulating countryside and almost hidden from view, offers a peaceful resting place.

The natural beauty of Roucan Loch is its most important feature and a number of options for remembering loved ones are available
Ross loved animals and kept tropical fish, so the opportunity to dedicate the 'fish' in loving memory of him was an easy decision to make.
Two weeks after Ross's funeral we returned to Roucan Loch on what would have been his twenty-fifth birthday.

We had probably walked approximately a third of the way around the Loch when Jim asked if there were any fish in the loch?
Instantly, a trout jumped out of the water as if to answer the question.

We continued to walk around the loch and back again and in all that time we did not see any more fish, and did not ask the question again.

There are two swans on the Loch, and some ducks had also been introduced recently, although some have disappeared.

The woods in the vicinity are home to a number of deer.

There are also badgers, foxes and mink close by.

There are rabbits on the slopes close to the loch and an abundance of other wildlife with a variety of bird species, butterflies, dragonflies, crickets, and others.
The wreath laid at the plaque at the side of the loch which dedicates the fish in loving memory of Ross.

And at the 'memorial lodge' where the books of rememberance are located.

Flowers laid on Christmas Day
---
Flowers laid on 6 January 2006

by

Sam and Terri

Flowers laid on 6 January 2006

by

Fiona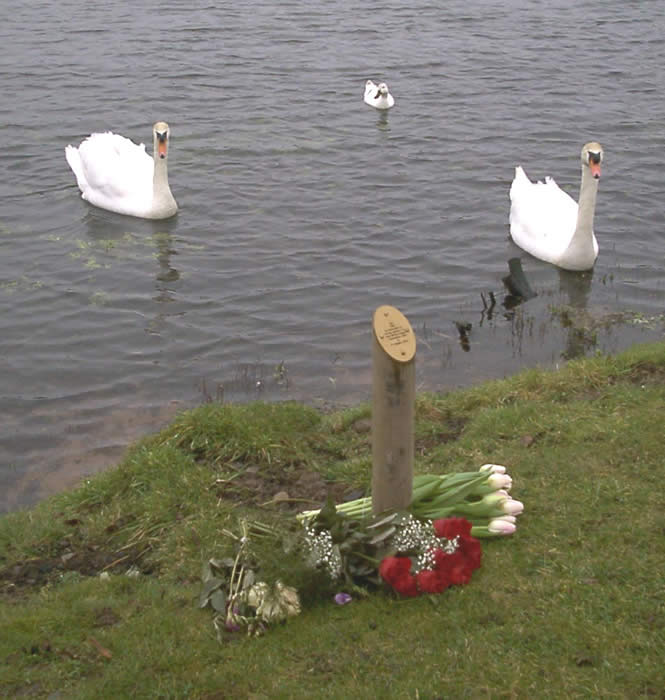 Visited Roucan Loch on Monday 13th February 2006
six months since Ross died.
Flowers laid by Jan, Jim and Richard.
Flowers also laid by Fiona from West Sound.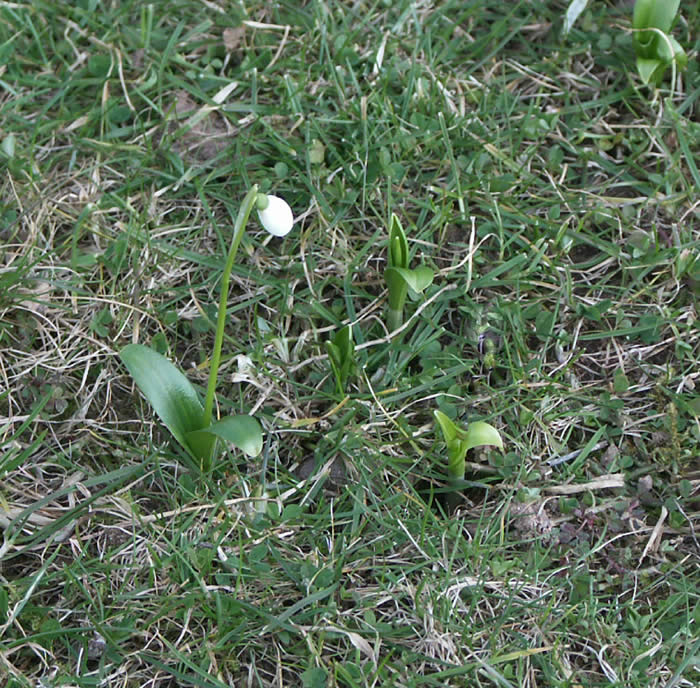 We went out to Roucan Loch on Wednesday 1st March and found that one of the many snowdrops planted towards the end of last year was in bloom, and others planted are also beginning to show through.
We would have come out to Roucan Loch on Sunday but we had a fall of snow which put paid to most peoples movements as you can see from the photographs above of the back garden and a field just outside the village.
Visited

Roucan Loch

on

Sunday

19th March 2006.

Laid some flowers at

Ross's fish.

One swan looked as though it

was guarding the Crematorium.

Fed the other swan and the ducks

some bread and the other swan

then appeared but was a bit too

close for comfort!!
Visited Roucan Loch on

Sunday 26 March 2006

(Mothers Day)

Laid some roses

and planted some

miniature daffodils.

Took some bread

and fed the swans

and ducks.
1st April 2006

and the daffodils

have started to flower.

9th April 2006

Planted some flowers and replaced

the roses.
Laid more flowers on

Thursday 13th April 2006.

Eight months to the day

that Ross passed away.

Laid some red tulips on

Sunday 23rd April 2006.
Sunday 7th May 2006

Carnations and Roses

Saturday 13th May 2006

Nine months since Ross passed away

Laid a dozen white roses.
Back at Roucan Loch

on

Sunday 21st May 2006

laid a dozen

red roses
Visited Roucan Loch

on

Sunday 11th June 2006

and

laid some flowers.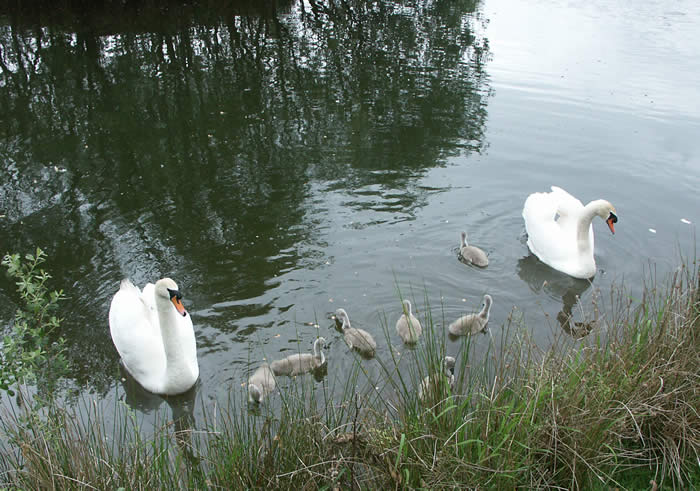 Whilst at Roucan Loch on Sunday 11th June, we saw the new arrivals for the first time. We knew that the swans had laid a number of eggs, but you never know how many will hatch and clearly there are seven healthy cygnets who will hopefully survive everything that nature throws at them.
Tuesday 13th June 2006
Ten months, but never forgotten.
Visited Roucan Loch on Sunday 25 June 2006

Laid a dozen pink roses

in memory of Ross

and

gave the young cygnets some bread.
Alison and Merlinda at

Roucan Loch

on

Sunday 2nd July 2006

Laid flowers for Ross
Fed the swans,

after which, the seven young cygnets decided to have a sleep whilst mother watched over them!
Visited Roucan Loch on

Thursday 13th July 2006

Flowers in his memory

laid by Ross's Gran,

his Mum, Dad

and brother Richard.
The cygnets are getting bigger and all seven

are alive and well.
Laid some flowers on

Sunday 6th August 2006

Last month when we came to

Roucan Loch, the white duck had

disappeared and we feared the worst

and thought that perhaps a fox may

have taken it.

We need not have worried, as she was

clearly busy looking after some eggs

which have now produced seven

youngsters and they all appear to

be doing very well.
A new wood carving now in place

at Roucan Loch

We laid a dozen roses

at the plaque on

Sunday

10th September 2006
Visited Roucan Loch

on Sunday 22nd October 2006

Laid a dozen red roses
Visited Roucan Loch on

Sunday 3rd December 06

and laid a dozen red roses

at Ross's plaque.

We would also like to thank

whoever took the time to

lay the other flowers in

memory of Ross.

It was good to see the swans back on the Loch on Sunday 3rd December.
Visited Rouchan Loch

on

Sunday 17th December 06

Laid some roses at Ross's

plaque.
Went to

Roucan Loch

on

Christmas Day

and laid some flowers
---