Ross' Music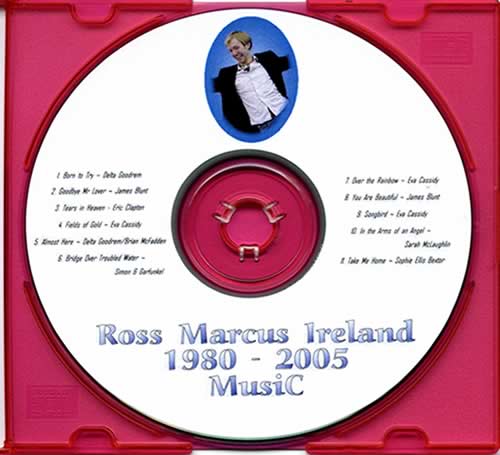 Born to Try ~ Delta Goodrem
Goodbye My Lover ~ James Blunt
Tears in Heaven ~ Eric Clapton
Fields of Gold ~ Eva Cassidy
Almost Here ~ Delta Goodrem/Brian McFadden
Bridge Over Troubled Water ~ Simon & Garfunkel
Over the Rainbow ~ Eva Cassidy
You Are Beautiful ~ James Blunt
Songbird ~ Eva Cassidy
In the Arms of an Angel ~ Sarah McLaughlin
Take Me Home ~ Sophie Ellis Bextor
The music at the Service (shown above) was music (with one exception) from CD's that Ross owned. This may surprise some of his friends who perhaps saw a young man with very different music choice on a night out.
Tracks 1 - 6 formed a 30-minute compilation, which was played before the service itself.
Tracks 7 - 10 were played at specific points within the service.
Track 11 - was played at the Crematorium to conclude the service.
We have placed music on the site to play as you navigate through the pages and whilst this may not be in the order that it occurred on the day, we feel that the most important tracks are in the right place.
We hope you take the time to listen to the music as it forms a very important part of the service and who Ross was.
---
Back to the Top