Music:
'Almost Here'
Delta Goodrem/Brian McFadden
More About Ross
We are sure that friends of Ross will have their own special thoughts about him, things he did and said, things that they have done together, etc.
If you have any stories or photographs that you would like included on the site, please 'contact us' by e-mail using the link on the left.
Ross planted the tulip in 2003/4 and at that time there was only the one flower.

Over the years the number of flowers have increased and in this fifth year it has produced five flowers.
On the photograph on the right, you can see Ross in one of his fun situations when he appeared behind Laura saying he had something stuck in his teeth!

He had stripped one of the leaves on a plant in reception and stuck them into his teeth.
On the day of Ross's funeral, rather than everyone bringing flowers, we asked that those who wished, made a donation which would then go to charity.

Ross was involved in 'Cash for Kids' at South WestSoundFM and all the money raised goes to underprivileged children in Dumfries and Galloway. It was therefore decided that the money raised (£500) would go to Cash for Kids.

At the 'Cash for Kids' Christmas Dinner on Thursday 1st December, Tommy Jardine (Breakfast Show DJ) read out the following:-

It is with deep regret that I have to announce the sad loss this year of a close friend and colleague at South Westsound.

Ross Ireland passed away on 13th August this year.

Ross helped us a great deal, both in front and behind the scenes here at Cash for Kids.

You'd spot him by his colourful (at times) spiked hair, infectious laugh or his infamous face pulling....

.... and it's only right that we pay tribute to him here today.

Ross would have helped anyone if it was within his power to do so and he continues to help us at Cash for Kids today.

Because after Ross' Memorial Service in Dumfries, Jan, Jim and Ric decided the donations made by the people attending, should be donated to Cash for Kids.

We're delighted that Jan, Jim and Ric joined us today at the Loreburne Centre table and we take this opportunity to thank them for the fantastic donation of £500 to Cash for Kids.
Ross worked as a receptionist (occasionally!), but one his jobs was to gather, prepare and put together the weekly 'What's On Guide' for the region and this would include charitable events, football festivals, fairs, etc.

With help from South West Sound we have been able to put together some of his previous presentations and this selection includes:

Click on any/all of the three links above to listen to Ross!
On Friday 6th January 2006

Sam Rome presented Ross's family with a special gift.

A 'Star' in Ross's name, in memory of him.

This is a beautiful gesture and very much appreciated by us.

Jim, Jan and Richard

Thank you so much Sam.

We wish you a Happy Birthday for Sunday 8th January

and that special star will be shining on you.
This certifies that the star having the co-oridnates: 22:37:02.511

in the constellation of: Piscis Austrinus

has been designated the name of: Ross - The Star in Our Lives

for: Ross Ireland on: 13th August 2005

The star is identified by the RED circle in the centre of the chart.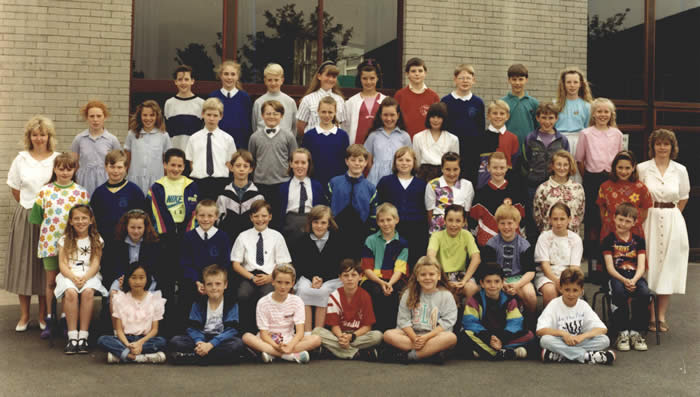 Smithy Bridge Primary - School Photograph
Ross - Second row from the back, third from the left.
Merlinda - front row, first on the left.
Alison - second row from the front, first on the left.
If anyone can help with names, it would be appreciated.
Alison, Merlinda and Mark sent an Autumn Cherry tree in memory of Ross.

This is a beautiful gift and is much appreciated by all the family.

We decided to plant the tree in an area

of the garden which is directly below Ross's bedroom window.

Merlinda and Alison came to visit on Saturday 1st July 2006 and this is the first time that they have seen the tree and it was an opportunity to take their photograph for this page.

Alison and Merlinda were at Smithy Bridge Primary School with Ross and Mark met Ross at Wardle High School.

Merlinda with two friends from

Wardle High School

Mark and Sam

Not to be outdone,

Ross's dog 'Kya'

decided to get in on the act.
We propped the tree up last year so that it wouldn't get damaged over the winter.
In January 2007 the flowers appeared which was a bit of a surprise.
And despite some gale force winds these delicate flowers have survived.
(Picture taken 10 January 2007)
This picture of the Cherry Tree

was taken on

Sunday 28th January 2007

and clearly it is doing well

with even more flowers.
The tree is still doing well

and is in bloom again in

March 2008.
This is

ROMAR

and he has been selected as a Guide Dog!
| | |
| --- | --- |
| And this is ROMAR at one year old just before he went away for his training as a Guide Dog! | |
---
Back to the Top